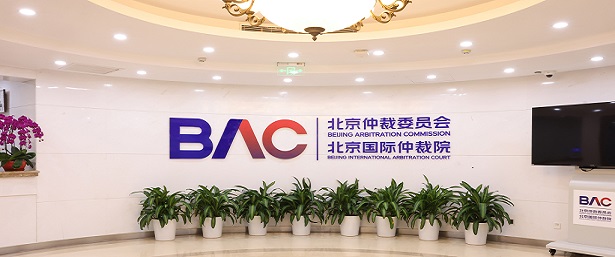 Symposium on "Changed Approaches for a Changing Landscape – Uncertainties in Cross-border M&As and Risk Management" Successfully Held
---
Publish time: 2019-7-2
On the afternoon of April 12 2019, the symposium on "Changed Approaches for a Changing Landscape – Uncertainties in Cross-border M&As and Risk Management" organized by the Beijing Arbitration Commission / Beijing International Arbitration Center (the "BAC") jointly with Morgan Lewis was successfully held at the BAC International Conference Hall. This event belongs to the BAC Forum for Selected Professionals series, and has attracted professionals from financial institutions, insurance companies, enterprises, colleges and law firms.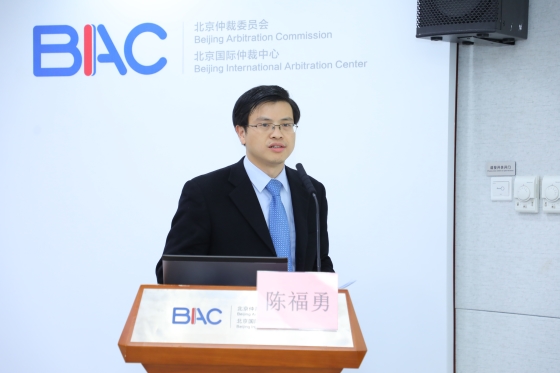 Dr. Chen Fuyong
The symposium was moderated by Dr. Chen Fuyong, Deputy Secretary General of the BAC. Dr. Chen firstly highlighted that it was the 9th BAC Forum for Selected Professionals. Starting from the second half of 2018, the BAC worked with prestigious firms with various areas of expertise and launched a series of lectures and symposiums. This symposium focused on a discussion of how to manage risks in cross-border M&A transactions based on the arrangement of a deal certainty protection mechanism in a new economic situation and regulatory environment.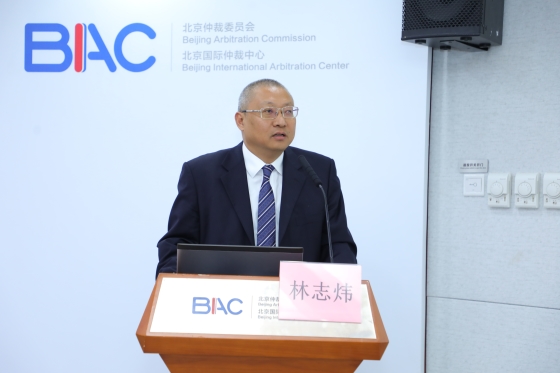 Mr. Lin Zhiwei
Next, Mr. Lin Zhiwei, Secretary General of the BAC, delivered a welcome address. Mr. Lin believed that the BAC Forum for Selected Professionals was experiencing fast development, and the BAC started to have extensive cooperation with law firms in more and more areas. The forum series have developed in depth and breadth in respect of the topics and depth. With regard to the selection of topics, the forum series are of strongly practice-oriented, and thus the topics are spotlights of practice. It is expected that the discussion by experts may reach more consensuses and prove better guidance to legal practice. Meanwhile, the forum series encourage mutual exchanges and look forward to wide participation and active communication of professionals from different sectors, and thereby make itself a platform for exchange of thoughts.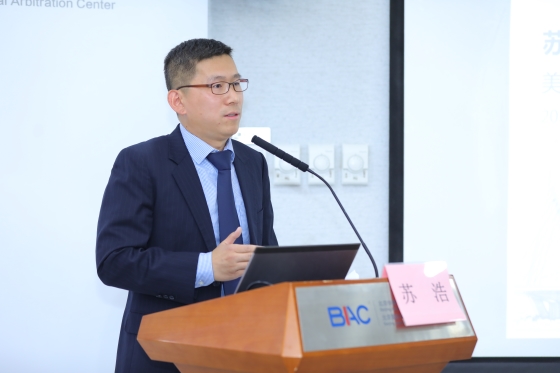 Mr. Su Hao
Mr. Su Hao, Partner of Morgan Lewis Beijing Representative Office, made a keynote speech themed "Cross-border M&As: Deal Certainty in a Climate of Uncertainties". Based on cross-border M&As he has dealt with, Mr. Su highlighted the importance the purchasers and the sellers placed on deal certainties and their different interest expectations about deal certainties. Thereafter, Mr. Su specifically discussed the uncertainties of the regulatory environment in a new economic situation, and the influence of other uncertainties on the deal certainties of cross-border M&As, including anti-trust reviews, Chinese outbound investment regulations, investment and industrial regulations of host states and so on. Mr. Su also provided some response strategies for ensuring deal certainties by referring to terms on preconditions, the extent of obligations to meet preconditions, reverse break fees and material adverse change.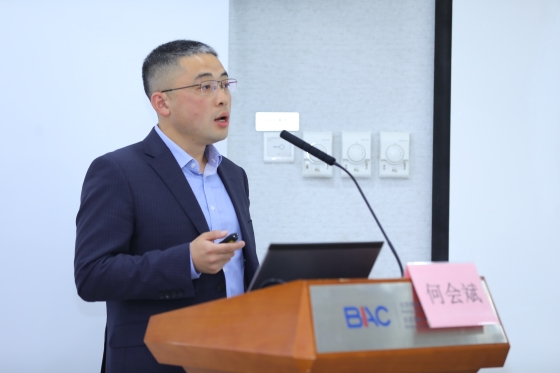 Mr. He Huibin
Mr. He Huibin, Deputy Director of Financial Risk Department of Wills Towers Watson, made a keynote speech on "Risk Management in Cross-border M&As: an Insurance Solution". With reference to the insurance due diligence at an early stage of the transaction, due diligence of human resource, M&A warranty insurance during the transaction process, tax insurance, litigation buyout insurance, title insurance and director & officer liability insurance and prospectus insurance during the execution of SPAs, Mr. He gave an in-depth analysis of how to cope with the uncertainties in cross-border M&As with insurance and means of risk management measures. Mr. He also referred to a sample of M&A warranty insurance and provided a detailed introduction of the application conditions, operation process and claims in practice of M&A warranty insurance.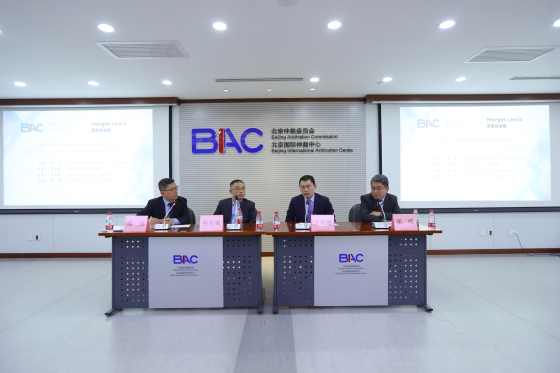 Panel discussion
Thereafter, Mr. He Huibin, Mr. Wang Xinglei, Director of Department of Legal Affairs of State Grid International Development Co., Ltd. and Prof. Deng Feng of Peking University Law School had an in-depth panel discussion themed "Dealing with Uncertainties in Cross-border M&As" that was moderated by Mr. Su Hao. Mr. Wang Xinglei referred to his experience in cross-border M&As, and shared the uncertainties of a cross-border M&A brought by the transaction itself and external factors from a perspective of first-party. Mr. Wang Xinglei specifically interpreted the new features and new trends of the regulation and review of host states on cross-border M&As in a new situation of trade and investment, and also provided some suggestions as to how to understand the market, how to arrange corporate governance and how to have timely and effective exchanges with regulators.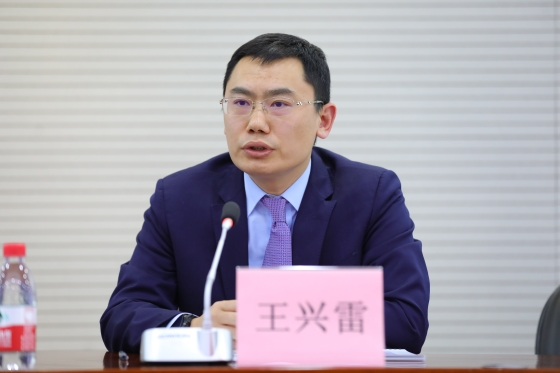 Mr. Wang Xinglei
Based on his rich experience of acting as arbitrator at the BAC, Prof. Deng Feng presented an introduction of three types of international M&A disputes most frequently dealt with by the BAC from the perspective of dispute resolution, namely, arbitrations arising from M&As of Chinese enterprises by foreign investors, M&As of foreign enterprises by Chinese investors and VIE investments. With regard to these three types of disputes, the BAC's strength lie in its understanding of the organic law that can better meet the expectation of domestic parties. Also, the case management experience of a number of cross-border finance and M&A arbitrations enables the BAC could better meet the parties' internationalized requirements both in procedural administration and in substantive review. In addition, Prof. Deng provided a detailed interpretation of the conflicts of diversified jurisdictions that are regularly seen in dealing with the aforesaid disputes, such as the jurisdiction conflict between transaction contracts or between the contract and the articles of association, the conflict of law systems, and the overlapping between civil law and criminal law. At last, Prof. Deng believed that Chinese enterprises should not only pay attention to how they could go abroad, but also to whether they could survive overseas after going abroad, which means corporate governance based more internationalized rules and horizons.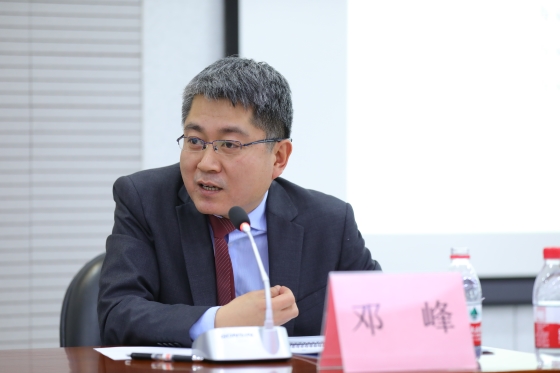 Prof. Deng Feng
In the Q&A session, the audience had further exchanges with speakers concerning the anti-trust declaration in EU, the structure design of cross-border M&As.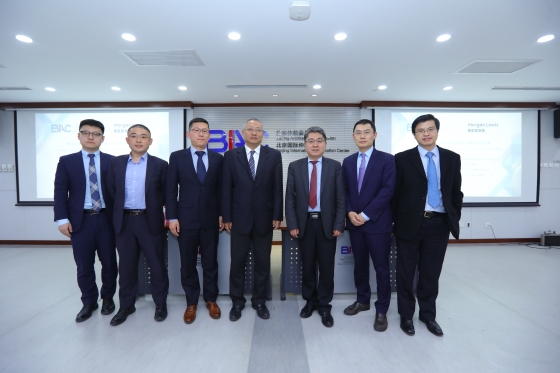 Group photo of the speakers
The BAC has been endeavored to the dissemination of professional knowledge and the research of dispute resolution, including those on international M&As, and also it has endeavored to establish a platform for exchanges between domestic and foreign professionals. We sincerely welcome professionals from various industries to continue to pay attention to and participate in events organized by the BAC. You are also welcome to pay attention to the BAC's website and WeChat account for more information.
All disputes arising from or in connection with this contract shall be submitted to Beijing Arbitration Commission / Beijing International Arbitration Center for arbitration in accordance with its rules of arbitration. The arbitral award is final and binding upon both parties.