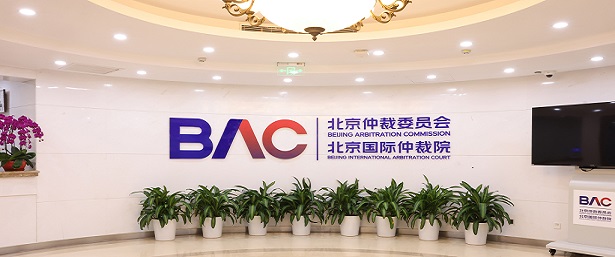 Symposium on "Risk Management and Prevention in Infrastructure Construction in Southeast Asia and South Asia" Successfully Held
---
Publish time: 2019-7-2
On March 26 2019, the symposium on "Risk Management and Prevention in Infrastructure Construction in Southeast Asia and South Asia" hosted by the Beijing Arbitration Commission / Beijing International Arbitration Center (the "BAC") jointly with Clifford Chance LLP was successfully held at the BAC International Conference Hall. More than 50 professionals from governmental authorities, enterprises, colleges and law firms have attended this event.
The symposium was one of the BAC Forum of Leading Law Firms series. From the initial launch of the Forum in 2018, the BAC has held a number of such practice-oriented symposiums jointly with leading law firms, both domestic and abroad, which helped highlight the professional advantages of such firms and meet the latest requirements of dispute resolution clients.
This symposium was moderated by Mr. Shi Lei, Senior Counsel of Clifford Chance LLP Beijing / Shanghai Office. Dr. Chen Fuyong, Deputy Secretary General of the BAC, delivered an opening address on behalf of the BAC. Dr. Chen firstly presented an introduction of the background of the BAC Forum of Leading Law Firms, and reviewed the previous cooperation between the BAC and Clifford Chance LLP. Dr. Chen said that the BAC has accepted more than 6,000 construction disputes in total by November 2018, from which it has harvested extensive experience in handling such cases. Meanwhile, the average time spent from the formation of the arbitral tribunal to case conclusion of the 80 international arbitrations the BAC concluded in 2018 was merely 174 days, an impressive figure that could well meet the parties' expectation of arbitration's efficiency. At last, Dr. Chen expected that all the audience could enjoy the professional sharing by the speakers.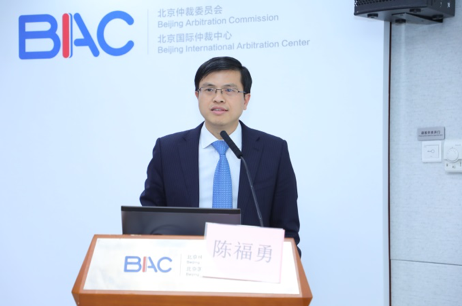 Dr. Chen Fuyong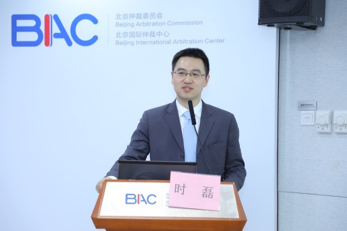 Mr. Shi Lei
Session I of the symposium was the keynote speech by Mr. Matthew Buchanan, Partner of Clifford Chance LLP Singapore Office. Starting with the issue of procurement structure that is widely adopted in construction procurement in Southeast Asia and South Asia, Mr. Matthew Buchanan introduced to the audience procurement structures such as "simplified" EPC, paid bidding, convertible turn-key general contracting, and analyzed possible influences on procurement structure from price, time, market size, technology and other factors.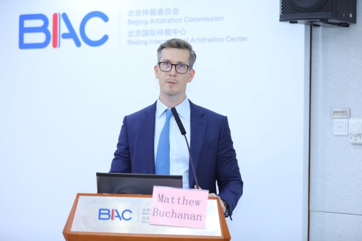 Mr. Matthew Buchanan
Session II was the keynote speech by Mr. Zhang Weixian, Partner of Cavenagh Law LLP (alliance firm of Clifford Chance LLP in Singapore). Mr. Zhang Weixian focused on frequently seen risks in contract drafting in construction projects in Southeast Asia and South Asia and methods of avoiding such risks, and shared his experience from aspects of dispute resolution clauses, contract suspension, force majeure, risk sharing and regular contractual risks.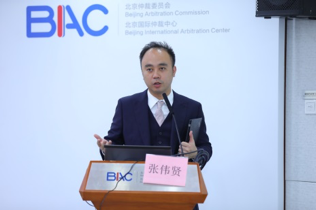 Mr. Zhang Weixian
In the subsequent panel discussion, the BAC specifically invited Mr. Cui Jun, President of Beijing Overseas Junhe Construction Consultation Co., Ltd., and Mr. Zhang Yanghong, Director of Business & Law Dept. of China Harbour Engineering Company Ltd., to have a discussion with Mr. Matthew Buchanan and Mr. Zhang Weixian. Mr. Zhang Yanghong shared his experience of construction project management in Malaysia, and introduced matters need attention in the management of construction projects overseas from perspectives of external environment, stakeholders and internal management. Based on vivid cases, Mr. Cui introduced risks for Chinese enterprises in infrastructure construction in India, Philippine, Indonesia, Nepal and Sri Lanka. Mr. Matthew Buchanan and Mr. Zhang Weixian shared their opinions on the influences on contract management and project progress of political risks and natural conditions, respectively.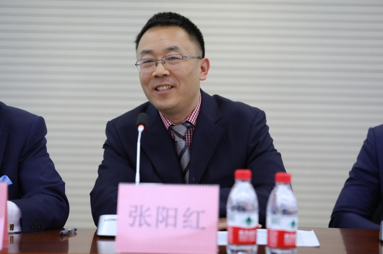 Mr. Zhang Yanghong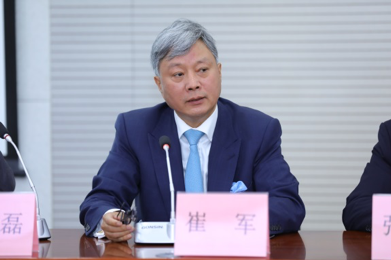 Mr. Cui Jun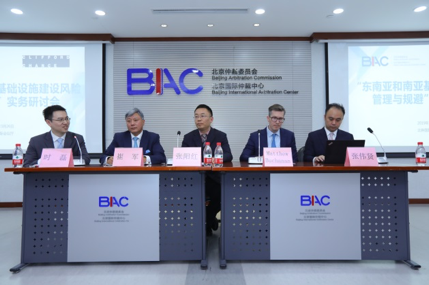 Panel discussion
Following the panel discussion, the last session of the symposium was Q&A. The speakers and the audience had further exchanges concerning issues such as force majeure. Thereafter, the symposium successfully came to its end.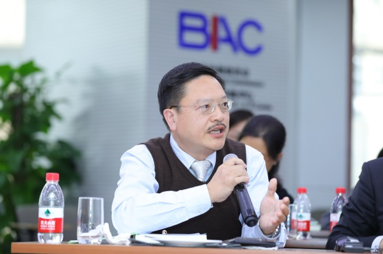 Questions by the audience
Exchanges after the symposium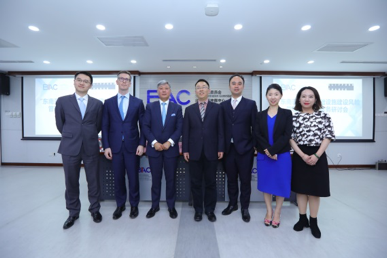 Group photo of the speakers
The BAC as a leading Chinese arbitration institution provides qualified and efficient dispute resolution services to parties from different countries, and meanwhile provides legal practitioners with a platform for studies and exchanges. The BAC will continue to pay attention to spotlights of international arbitration, and organize relevant symposiums. Professionals from various industries are welcome to pay attention to the BAC's diversified dispute resolution business, actively participate in various events organized by the BAC, and pay attention to the BAC's website and WeChat account for more information.
All disputes arising from or in connection with this contract shall be submitted to Beijing Arbitration Commission / Beijing International Arbitration Center for arbitration in accordance with its rules of arbitration. The arbitral award is final and binding upon both parties.